People have become digitally advanced, and they search for things right through their smartphones. No matter whether they search for big businesses or local businesses, Google does take care of everyone. For small businesses, Google lets you list down your business-related information, so people can find out all the details related to your business with Google Business listing.
They can get the right information quickly right from Google. This free service is known as Google Business listing. A reliable web design company would suggest you list down your business on Google while developing your business website. Blue Astral handles all such tasks for you and gives your business enough boost to reach out to your customers.
No matter whether you run a small business or big business, if you have a proper Google listing of your business, the number of customers will increase day by day. Google is like a life-saver for many users as it gets you accurate results for all types of business with proper information.
If we talk about any company or brand name if you are confused about any companies, suppose that you are looking for a company which located in any city like website design company in San Jose, just type company name "Blue Astral" into the Google's Search field. Google will present you the listing of Blue Astral with its Address, Working Hours, Phone number. You can also get the direction through Google Maps. You can search for it on Google, and it will give you proper ideas about the Google Listing.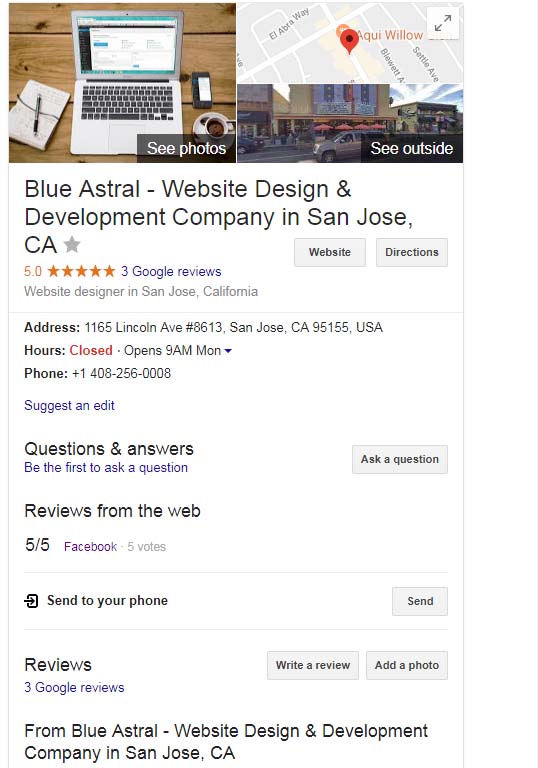 If you run a business and hired an SEO Company to manage the traffic and boosting your business, you can discuss with them about the Google Business Listing and its benefits. If you are unaware about the benefits of Google Listings, then here we have listed down a few useful benefits of it, so you can have a better understanding of this free service offered by Google which is essential for your business to get more customers.
Benefits of Google Business Listing
Having a good online presence attracts more customers to your business and Google Business listings is the best platform designed for you. Here's how Google Business Listing can improve your web presence and how it can be beneficial for your business.
Increases Audiences: Google Business Listing shows your business consistently while a user searches for it on Google. Fortunately, Google search also shows the results of Keyword matches. No matter what type of devices users are using, Google will show you the listing of your business which is essential for your company to earn more customers.
Easy Interactions with your Customers: Google Business Listing lets you interact with potential customers. The listing also allows the users to leave their feedback right below the listing with star ratings. Customers can rate their service and leave feedback as well.
Everything at one place: Google Business Listing allows you to put all the details of your business including the working hours etc. at one single place. Once a user searches for the related business on Google, he will find out all the details such as Business name, Address, working hours, phone number, location, etc. Customers don't need to waste their time as Google will show up the listing on the front page.
Things to know before creating Google Business Listing 
Google Business Listing is essential for your Business; however, you have to consider a few things before listing down your business here.
Fill out all the information: While listing your Business on Google, you have to fill out all the information on the fields asked by Google. Essential information such as your website, phone number, working hours should be there. It will help the users to get the right information quickly. This will also encourage them to leave positive feedback on the listing.
Have reviews: Google Business Listing allows the customers and users to leave their feedback below the listing. They can write down the review with star ratings. This will help future customers or users to determine whether this business is suitable for them or not.
Put the right information: If you are serious about your business, you should only put the correct information while listing down the business on Google. Don't try to mislead the people as it will leave a bad impression and you would not get any benefits through it. While listing, Google will ask you to select the category, field, and everything. You need to choose appropriate options before submitting the listing on Google.
How to create a Google business listing using 5 simple steps?
The Business Listing is not elaborate at all- all you need is these 5 easy steps to initiate the procedure.
Step 1: Create a Google account but ensure it is associated with your business. If you already have an existing one, simply Login to your business associated Google Account. Once done find google.com/business where you will come across a START NOW button, on the top right corner of your page. Select the button.
Step 2: The page will open up an online form for you where you need to enter your official business name. Breeze through the Terms of Service if you like, and then click NEXT to continue.
Step 3: The next part of the online form will ask for your legal/official business address. Type in the same along with your city name and postal code. You'll also be given two options below the list which you can check/ uncheck as per your convenience. You will also have to fill out your delivery or operational area.
Step 4: Now choose a category for your business. You need to be as accurate as possible when you're choosing a category since Google will categorize your customers based on your selected choice. The next step includes adding a verified contact point, be it your website, email, or official contact number.
Step 5: Lastly, you will be asked to choose a verification option. Choose the one you find most convenient and we are all set to go.