Why Associate with Best SEO Company in Faridabad?
SEO Company in Faridabad: SEO is not just a bunch of keywords but is actually a well-planned strategy that contains activities which help to enhance your presence on the web and adds trust for your brand. A well-planned implementation in accordance with the latest algorithms of the SEO strategy improves the visibility of your brand on the various search engines.
We have planned our SEO Services in accordance with the norms of Google Webmaster to protect our client against all odds.
We have based our SEO strategy on the following Four Strong Pillars:
Google SEO Norms.
Content Intensification
Link Building
Social Media Presence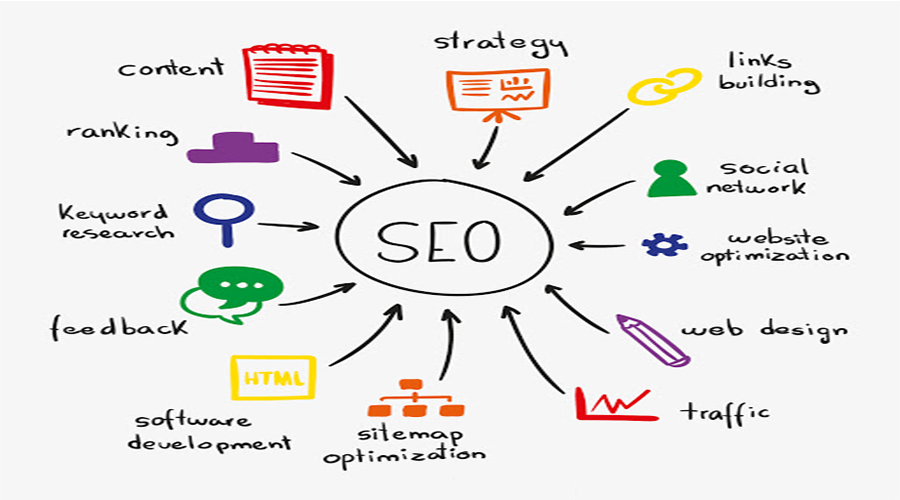 Google SEO norms:
We are located with the Best SEO Services In Faridabad, have a team of experts who have a regular track on the Google SEO norms so that we are always updated with the latest algorithms. We use the best quality methods to help Google to search and index your website.
The norm basically covers three major aspects
Designing and Content Guidelines: The main focus in this phase is the on-site optimization. We analyze the key factors such as site hierarchy, coding, internal navigation structure. Based on this, our expert panel designs the right strategy that is in coherence with the Google norms.
Technical Norms: Here, we go into the factors that hail importance in website designing. We provide extra impetus to the loading speed as Google is fond of a web page that loads quicker.
Quality Norms: We provide great emphasis on the use of organic and white-hat techniques to make it easier for Google to search, move through, and index your website. We try to abide by the Google norms and work on the Google algorithms; Penguin and Hummingbird.
Content Management:
Content is the soul of any internet marketing strategy. So, we have given a lot of impetus on content optimization through the following techniques:
Keyword Analysis: Our analysts have expertise in framing keywords that enhance the quality of content. This framing of keywords helps us to write the content which is in relevance to the keyword. This helps in improving the rank of your company. We frame and work on keyword strategies that are in accordance with the Google norms.
Blog Maintenance: We maintain regular blog posts from our client's side that are easily readable to the audience and at the same time to the web crawlers. We also make sure that users can easily share and like your blogs to enhance your brand image.
Meta Tags Optimization: Creative Brain gives a lot of emphasis on meta-tags formation. We draft keywords in an adept manner for Meta-tags and URL to attract more crowd traffic in the website.
Data Highlighting: Creative Web adds elegance to the content by highlighting the keywords. By the use of the Data Highlighter scheme, we tag the events, names, locations, articles under the category they are most searched in. It helps in increasing the visitors count on your website.
SEO Friendly Site Design and Navigation: Our SEO management starts by designing an SEO friendly website for the clients with the help of our SEO experts and designer. In case, the client is having a website we analyze the site through an SEO analysis to configure whether there is any problem in the website architecture.
Enriching User Experience: If a site is optimized on analysis as per the Google norms, then it will retain its position in Google ranking. We with our efficient expert panel make sure that you do not get ranked for wrong keywords and in case it is such, we apply a different strategy to get it fixed whenever the website is not designed by us.
Link-building:
With the advent of Google Penguin, the way of the link building has completely changed, but its worth hasn't. We provide our clients with not only links but the links that would increase their web presence:
Guest Blogging: Guest Blogging is amongst the top ways for link building. We provide blogs on your account on high domain websites that generate a back-link to the Google which improves your ranking. Our SEO specialists are also adept in evading any kind of spammer webs that could deteriorate your repute.
Internal Linking of Web Page: After substantial research and analysis, we provide internal linking of your website that allows Google to easily crawl through your website pages. We link your web-pages to blog and vice-versa that increases your search engine rank and hence your visibility on the web.
Press Release: We serve significant Press Release to the users about your brand to increase your rank on the search engines. We generally publish press Releases on high domain websites and always abide by the Google norms for the best results.
Advertising through All Channels: We make use of all possible instruments like the videos, slide-shows, infographics, etc. to get noticed by the search engines and increase your visitors count.
Giving Impetus to your Social Media Presence:
Though not directly in correlation with SEO, The likes and comments on the social media platforms are taken into consideration by Google before they assign you the top rank. We make sure your social presence felt by employing strategies:
With substantial research, we analyze the right platform to promote your business to get the maximum results.
We also keep a track on the activity of your competitors to be a step ahead of them.
We also enhance your brand image by sharing your brand on relevant platforms that involve subsequent traffic.
We share the information without any protection so that the users can easily share and repost it.
How to enhance your Visibility after the Panda, Penguin and Hummingbird update:
Post the panda, penguin, and Hummingbird updates, the SEO strategy has changed subsequently and we use qualitative methods instead of the quantity to increase your web presence. The key principles we follow are:
Increasing User Engagement: We increase user engagement through various new strategies like quizzes and questionnaires. We also make comparisons between you and other competitors to enhance your presence.
Content Quality: We completely analyze the reviews of the visitors to share the content that is appreciated by the users and refrain from posting worthless blogs that could reduce your visitors count.
Creative Brain Web is a leading SEO company in Faridabad, which has helped dozens of organizations to gain a strong market presence and attract good quality and quantity of web traffic. We incorporate the latest and effective search engine optimization techniques to take your business on the first page of Google search results. In today's time, SEO has become one of the crucial aspects of digital marketing. More than 80% of users don't look beyond the first page of Google, and if users are not able to find you, they can't become your customers. Therefore, you must resort to the best SEO services, which will help you boost your online visibility and let your targeted customers know that your business exists.
We, at Creative Brain Web, have a team of experienced SEO professionals that make use of advanced white hat SEO techniques to bring more customers to your virtual doorstep. We put our full potential into our projects and deploy dedicated SEO managers and content writers to make your project a digital success. We fulfill all our promises that we made to you and within the specified time, and that's what makes us a topmost SEO company in Faridabad.